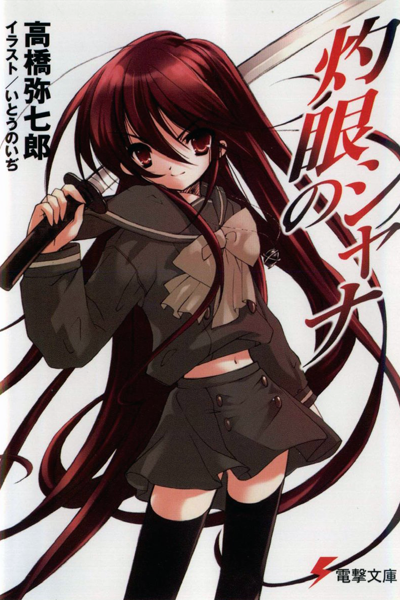 I bet you would want to hear what I am about to say, and I can bet that you'll be badly surprised like I had been when I heard about the commercial. But oh well, if you've read the title of this post, then you should have known what I am going to say: Yes indeed, our Malaysian local TV channel NTV7 (best of all, it's Sabah and Sarawak friendly), the channel which aired quite a few anime series including Shaman King, Fruits Basket, Prince of Tennis and Trinity Blood, is going to air Shakugan no Shana.

Here's the story on how I got to know about the news. I was half-asleep in my room on my bed just now when my brother turned on the television. To my surprise, I heard some sort of Japanese song "Soshite kono sora, akaku somete..." and it was very familiar. I came to realise, isn't that "Hishoku no Sora", the opening theme of Shana? And yes indeed that was. I was told by my brother that they (NTV7) are going to air Shakugan no Shana, replacing Trinity Blood's programme slot which was empty after they had just finished airing the last episode on midnight yesterday (Friday).

On one hand I was rather shocked and surprised about the news, on the other hand, I felt rather happy and joyful that finally Shakugan no Shana is going to have more exposure, especially among my own fellow Malaysian. Best of all, just like Trinity Blood, they are not going to air the stupid English dubbed version of the series, but instead, the original Japanese dub with Bahasa Melayu subtitles. The only part which I was rather disappointed with was that the anime series would only be aired in the midnight from 12:15 a.m. to 12:45 a.m on weekdays Wednesday, Thursday and Friday. It's rather impossible for schooling children to watch such late night shows because the very next day they have to go to school and I suppose parents wouldn't mind nagging around telling their children to go to sleep. In that case, who's going to watch it?

Anyways, to those who are aliens and strangers to Shakugan no Shana, the 26-episode anime series tells the story about a strange, nameless little girl, who, under the arrangement of fate, met with a boy whom she in the end fell in love with after going through many obstacles. Upon meeting the girl, the boy, Yuji, an ordinary highschooler, had been living a normal life going through exams and of course, different emotions. After meeting her, Yuji got to know that he is a 'torch' and will disappear into thin air once the 'fire' of the 'torch' inside him extinguishes. However, Yuji's a special case as he is also gifted with a special item, that is the 'Reiji Maigo', and that is the thing which continues to burn the torch inside of Yuji. As Yuji couldn't die and instead were able to move within the concealed space, he decided to help the girl which he later named 'Shana' after her trusty sword 'Nietono no Shana'. As they fight enemies or 'Guze no Tomogara' from the other world, their feelings accumulate and Shana decided to take on the form of an 'extinguished' classmate of Yuji (just like what Rukia did in Bleach to monitor Ichigo).

The story is mainly a mix of shoujo, romance, comedy, school life, as well as supernatural beings, and I highly recommend you to watch it. Personally, I was introduced to this anime series through the second OP's single, "being" by KOTOKO which was then my favourite song. My first impression of the anime wasn't too good as the first episode was so damn boring. However, I immediately got hooked on the anime after the fourth episode or so when Shana moved into Yuji's house and lived together with him. Lol, wasn't that a funny scene? This brings back memories.

On the other hand, here's some Yamaki News. Updates from this post onwards shall be delayed updates. In other words, I shall be writing the articles beforehand. This is due to the fact that my old man has forbidden me to use the internet at home, so I had to opt for other internet alternatives, like, the school library. Actually, this article is already a delayed post...

Edit: I changed the image. Melon-pans are too delicious. You all need more Shana.