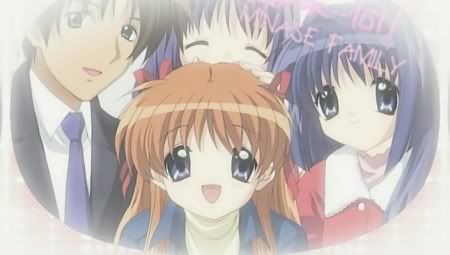 This is a sad episode, I must admit. However, I was able to control myself from crying; but instead, I was left with all my hair standing after I had finish watching the episode despite not being actually cold.

The feeling that the episode had left me with reminds me of those scary movies, in other words, disturbing and hard-to-forget. The moment Makoto left Yuuichi, it felt as if I had lost my soul because it was too sudden. No warning, no floating into the air, nothing at all; she just disappeared like that from Yuuichi's arm. Worse, a mysterious music was playing in the background! After that, then suddenly, Makoto reappeared in the middle of no where as ending theme started to play... whoa! It really surprised me!



Amano trying to be friends with Makoto.

In this episode, Yuuichi had decided to let Amano Mishio meet Makoto after having her approval. She had easily become friends with Makoto without much trouble. Before leaving, Amano had once again told Yuuichi to give Makoto anything she wants.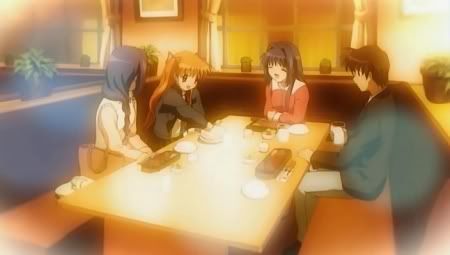 The family having dinner together.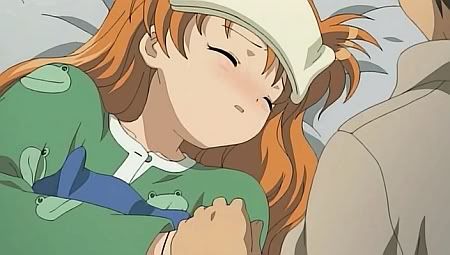 Makoto starting to get a fever.

Heeding Amano's words, the family decided to have dinner outside. Yuuichi got into a rather formal suit with a necktie on as he had planned the whole night for Makoto, and one of the plans were to take photo-stickers together with the family after dinner. After that, they played fireworks together after reaching home. Later that night, Makoto got into a fever. Miraculously, she still managed to live on and had wakened up in the next morning. Yuuichi had brought her out to school.


Yuuichi feeding Makoto pork bun.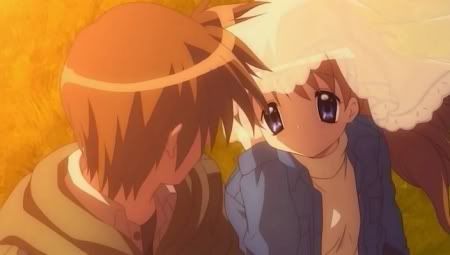 Yuuichi marrying Makoto in a simple swear-in.

The bell that Makoto left behind..

Later on, he brought Makoto up the hills where she belonged. In there, they had pork buns. After that, Yuuichi took out a white piece if cloth for Makoto to be used as a veil. They became husband and wife at the very moment. However, happy moments do not last long. They played with Makoto's bell before Makoto disappeared into thin air without any trace. Yuuichi picked up the bell...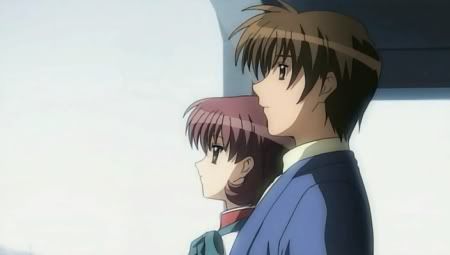 Yuuichi with Amano after everythin happened.

Back at school, Yuuichi had a rather interesting and amusing conversation with Amano Mishio. It seems that Yuuichi had been able to put himself together in no time, and that Amano is actually really girly with a wild imagination. Note the quote, "Don't you think it'd be nice to see sweets falling from the sky?" with Yuuichi unromantically replying "Snacks that fall to the ground are dirty." I think I'm starting to really like Amano. :D

My last words: So, this episode is the last episode of the Makoto story-arc. Whether Makoto would return or not, it's still a mystery for the time being. If I am not mistaken, it should be Nayuki's arc starting from the next episode. In anyways, we're gonna see Ayu and the others again, haha. It's time for some "uguu~" after hearing too much "Auu~".