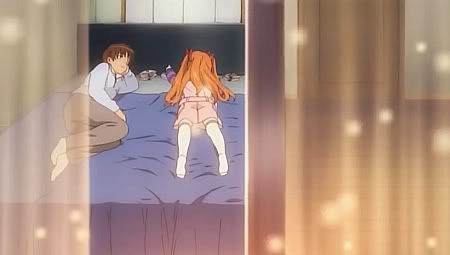 Earlier today I was playing around with Audacity using the headphone which I had bought the day before yesterday. I was planning to join the Karaoke contest which was organized by over at Basugasuhatsusatsu... no wait, what was it again, Basugasubakuhatsu, that's right, Basugasubakuhatsu (currently down), with the celebration of the blog's first anniversary. The person who operated the blog, Hung, is also the owner of Anime Nano, the aggregator from where this blog gets most of its hits from. Also, I was watching TV! There's a few matches that were going on in the Asian Games in Qatar and it was live. So much for Malaysia obtaining second place in Sepak Takraw. It's good nevertheless, but I was expecting Gold.

So now, back on topic. Read the title of the episode and you should get the idea of what is the message the episode wanted to deliver to its audiences. Spoilers all the way, so I decided to exclude this episode's introduction.

I didn't see Ayu or any of the other girls in this episode. I pity Shiori who must have waited for Yuuichi under the snow all the while. Perhaps the anime makers had decided that Makoto should be having all the attention she could have in these episodes (around 7-11) in where she might be having her last appearances. Yuuichi seemed much more warm-hearted than usual with his decision to skip school to be with Makoto. However, the promises which he had made to Makoto wasn't convincing enough to me because it was so emotionless that it sounded as if it were made without it going through his mind and that he might break his promise any moment. This is where Tomokazu Sugita would lose out to other male voice actors.




Amano telling her story to Yuuichi.

The plot of the episode is rather complicated with Amano Mishio popping up every now and then despite having said that she wanted to keep away from such painful miracles which would bring back bad memories of her own to herself. Yuuichi tirelessly attempted to talk to her in school and was unsuccessful at the start but as time went on, Amano eventually approached Yuuichi on her own accord and told him her story. Amano went through a really painful life filled with unhappiness and sorrow from the day her best friend disappeared forever. But they couldn't help it, since nobody, not Yuuichi, not Amano, could ever change miracles, not even create one itself.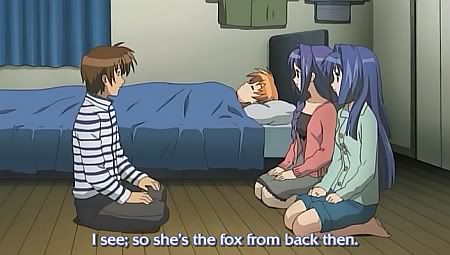 "So, she's the fox from ten years ago..."

Yuuichi had told Akiko and Nayuki the story of him living with a baby fox ten years ago secretly when he was in town, in where he had to part with the cub since he had to leave and return to his hometown. Their parting wasn't a happy one since Yuuichi had left the cub in the forest without leaving a message, if you understand what I am talking about. Old-lady Akiko then told Yuuichi she had knew about the cub; she saw it coming out of Yuuichi's room when he wasn't around and was attracted by the sound of the tiny bells on Akiko's purse. She was surprised that Yuuichi had told her that Makoto was the baby fox but nevertheless believed in what he had said. Nayuki remained confused but still accepted that Makoto wasn't human.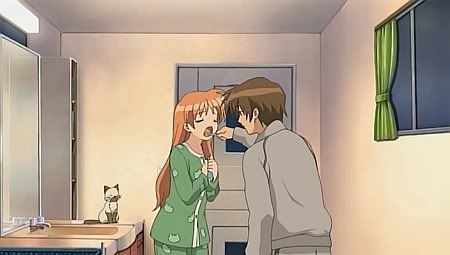 Yuuichi had to help Makoto to brush her teeth.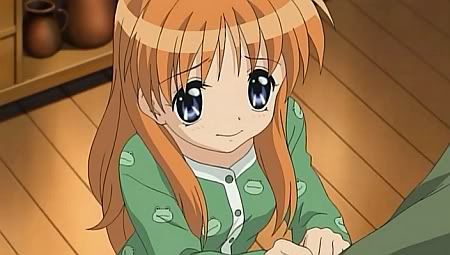 Makoto, if she were an animal...

In this episode, Makoto's vitality had a significantly decreased. She wasn't able to even hold a toothbrush and had to result in Yuuichi helping her to brush her teeth. Slowly, Makoto won't let Yuuichi leave her at all since she fear that Yuuichi might leave her just like the last time. Yuuichi decided to skip school for a period of time to be with Makoto, feeding her pork buns and reading her her favourite mangas, since he knew that Makoto wasn't going to live long.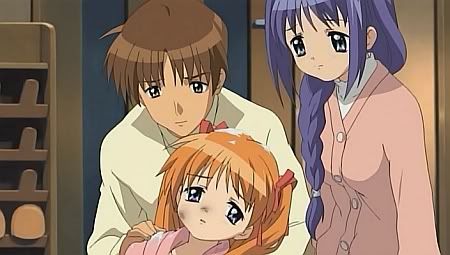 Yuuichi holding on to Makoto as she collapsed due to high fever.

Makoto had been waiting at the school gate for Yuuichi to finish school, so that they could like, have pork buns and spend some quality time together. However on one of the days in this episode, Yuuichi had noticed that Makoto wasn't waiting for him as usual. He became worried when he found out that Makoto wasn't at home as well. However shortly, Makoto came back home with a really strong fever. But fortunately, she was able to recuperate and get well the next day. According to Amano, having a high fever means that the person is about to die. However, it was another miracle for Makoto for being able to get well. She had told Yuuichi that if Makoto were to have another fever, do not assume that she'll get well and to get ready for the worse to come.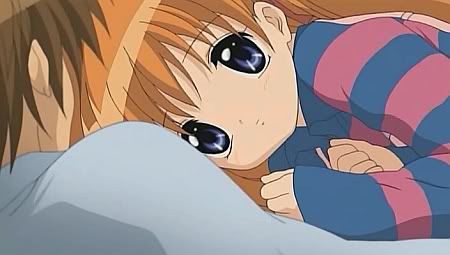 Makoto looking at Yuuichi with hope in her eyes...

The final part of this episode was Makoto's request for Yuuichi to marry her after the story of the manga where the hero left the heroine after marrying another princess. Yuuichi couldn't give an answer to a question which was so direct.